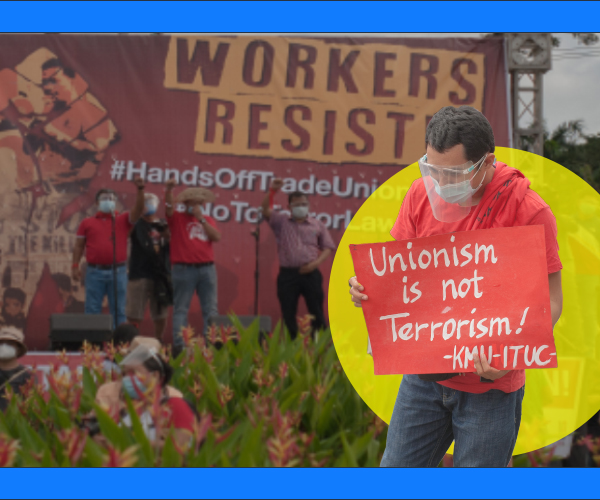 The Center for Trade Union and Human Rights (CTUHR) vehemently condemned the series of continuous state-sponsored red-tagging and harassment against workers' unions and labor rights defenders. CTUHR raised alarm on the intensifying attacks against unionists and labor rights advocates and appealed to the Filipinos and the international community to unite and resist this.
"This government shows an utter disregard of trade union and human rights! Unionists who are only exercising their right to freedom of association and are working for the welfare of the working Filipinos are under attack. Being a unionist or helping workers to form a union is no act of terrorism," CTUHR said in a statement
Last January 12, KMU reported an incident of surveillance and intimidation at their National Headquarters in Project 2, Quezon City. Around 6 police officers were seen questioning the neighboring residents. The narrative being played is that they are looking for "loose firearms," which is the same narrative used for the illegal arrests of the HRDay7. The Commission on Human Rights (CHR), together with media outfits, have already inspected the office and verified that the headquarters is not harboring any terrorist nor hiding firearms.
Just 2 days after that, another labor organization, Defend Jobs Philippines decried a suspected police surveillance at their national office in Project 8, Quezon City. They reported that a man in plain clothes, riding a motorcycle with an NCRPO sticker was seen taking videos of the façade of their office.
Meanwhile, the BPO Industry Employees Network (BIEN) was the target of a new wave of red-tagging online propaganda. A Facebook page under the name Peace Philippines, posted photos and profiles of officers and members of BIEN last January 15, tagging them as part of the CPP-NPA. The post has been taken down by Facebook.
The most recent report is the harassment and death threats against trade union organizers in Cebu under AMA-Sugbo-KMU, PISTON-Cebu and ALSA Kontraktwal Cebu. A relative of one of the organizers received a text saying that one of their targets for the coming week is Greg, Ronilo, Aldo and Jaime.
"It is enraging that these attacks continue amidst the countless challenges that the Filipinos, especially the workers are facing right now – the prices of commodities are skyrocketing, thousands continue to lose their jobs and the number of COVID-19 cases in the country continue to rise. And all that the Duterte government chooses to do is sow fear and terror against the people. Stop the attacks! Hands off our unionists!"
CTUHR raised concern that the Anti-Terrorism Law is being used in these aggressive attacks against unions. State forces do not uphold and respect the basic rights. We can expect more of these attacks on labor and human rights, if will not be repealed, especially now that there is a growing clamor for change and call for accountability.
Since Duterte took office, CTUHR has recorded 26 labor leaders and organizers illegally arrested and detained using trumped-up charges and planting of evidence. It has also documented 50 workers and labor rights defenders killed under this regime.
"We reiterate our call for the International Labor Organization (ILO) to push for the High-Level Mission to investigate the worsening attacks against workers and unions in the country. Furthermore, we reiterate our demand to junk Duterte's Terror Law! In the approaching oral arguments on the Anti-Terrorism Law, we together with other human rights and labor rights organizations will exhaust all legal means to repeal this law and prevent the further escalation of human rights violations and bring justice to the victims and to the working Filipino people," CTUHR ended.