On the 68thanniversary of the Universal Declaration of Human Rights, labor rights group Center for Trade Union and Human Rights called on the Duterte administration to take human rights issues seriously and put an end to human rights violations in the country exacerbated by his administration's war on drugs, and continued militarization.
"Pres. Duterte was catapulted to power based on a promise to bring about 'peace and order'. But an order anchored on killings of drug pushers and addicts particularly the poor without due process is not only brazen violation of human rights but a mockery of peace that this nation has long wanted to achieve," Daisy Arago CTUHR Executive Director said.
"What law and order is this when President Duterte's had ostensibly weakened and even defended CIDG Region 8 Chief  Marvin Marcos and his raiding team  who reports identified as  not only involved in drug trade but also what the NBI's reported as rub-out of Albuera, Leyte Mayor Rolando Espinosa, Sr.? What order this is when he protects the powerful and kill the lowly addicts in the communities?," Arago added.
The group said that Duterte's disregard for human rights and his unrepentant decision to pursue its costly war on drugs despite its deathtoll reaching thousands, the betrayal of Martial law victims by allowing  burial of late dictator, Ferdinand Marcos in the Libingan ng mga Bayani and his recent remarks comparing political detainees to ace cards in a poker game are very alarming and demands serious reckoning. The group stressed that "there simply no justification for human rights violations."
Oplan Tokhang is also being abused by police and military to target other groups, individuals and communities who have legitimate demands, according to CTUHR. In Compostela Valley, the AFP's 66th Infantry Battalion is using anti-drug campaign to discourage plantations workers to join unions, especially under Kilusang Mayo Uno.
In San Jose Del Monte Bulacan, members of the police raided the house of three local leaders of KilusangMagbubukidngPilipinas (KMP) namely Alfredo Ravelo, Rowel Reola and SegundinaGaiteroand accused them of being members of New People's Army (NPA), but later they were charged of possessing and selling of methamphetamine (shabu). Reola, Gaitero and a certain Lito Natural were arrested. A fact-finding report however revealed that the evidences against the farmers were planted and no warrant of arrest was presented at the time of arrest.
CTUHR also urged the government to halt militarization in disaster stricken communities particularly in Eastern Visayas, who until today had not received government support and subsidy to help them recover from series of calamities. Soldiers in the areas are harassing community leaders and accusing them of being NPA supporters.
"In our interviews with representatives from Samar who joined the Visayan Lakbayan here in Manila, their families have been surviving on sweet potatoes, cassava or corn," Arago explained.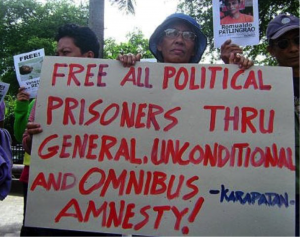 The group also called the President to deliver on his promise to free all political prisoners, immediately those who are ailing and need medical attention.
Uphold workers rights, End "endo" 
Meanwhile, CTUHR also reminded the Duterte government of the UN ESCR Committee recommendation to the Philippine government to institute a national minimum wage, put an end to endo system and abusive casualization of labor as well as the existence of sweatshop conditions at workplaces. (See link).
"Duterte promised to end 'endo' and implement a national minimum wage during the campaign period and at the beginning of his term.  Six months into office, and the workers have yet to collect  what he pledged to give. We are appalled that what we hear instead from DOLE is the so-called employers' win-win proposal that in fact will further institutionalize contractualization by treating manpower agencies as employers rather than brokers.  Such proposal is even more detrimental to workers' rights than DO-18-A," Arago averred.###