"It is painful but quite normal for children to bury their parents, but it is many times painful for parents to bury their kids, especially if they are just beginning their life. But the killing of Kian Delos Santos, and the many who mourned and raged somehow emboldened the neighbors, the families, the victims, even the city mayor, the barangay chief to stand up and cry for justice e", declared Bp Pablo Virgilio David, D.D, Bishop of Caloocan Diocese (in Filipino) at his homily during the funeral mass for Kian Delos Santos on August 26.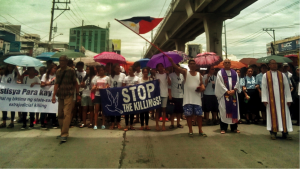 And if the thousands of Delos Santos neighbors, Kian's friends, and friends of friends of Kian's, concerned citizens, families and people's rights organizations from all over Metro Manila and elsewhere at the 11-kilometer funeral march are indication, then Kian's death signals the awakening about the viciousness of war on drugs. Even smaller children all chanted `Justice for Kian', stop the Killings. Community residents lined up along the streets where the march passed by and all uttering `sobra naman talaga' (this is really too much). As Aling Lorenza, Kian's mother had aptly said, it takes Kian's death, another police cold-blooded killing of innocent youth to pierce through the silence of how war on drugs is ferociously implemented especially against the poor.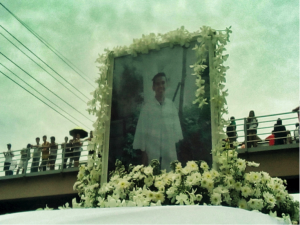 Kian, 17, was killed by the police on August 16 as part of war on drugs operation due to alleged involvement on drugs and in firing at police operatives. The Senate investigation underscored that he was negative on gunpowder and supposed police information only came from a facebook post.
While PDuterte, however, has said for the first time that the police responsible for the killing of Kian will be held accountable, he has not retracted his previous statement "Ang utos ko, patayin? Bakit? "Well, if you are committing a crime in my presence, sabihin ko sa pulis, 'wag na yang surrender, surrender. 'Pag sa loob ng bahay, sugurin ninyo yung bahay at kapag hindi panakahawak sa baril, bigyan mo ng panahon makahawak ngbaril at todasin mo. Ako ang bahala. Ako ang mananagot."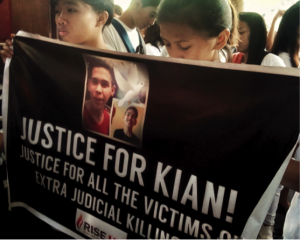 That's exactly how Kian delos Santos, a 17 year- old, Grade 11 student, unarmed and pleading for police for mercy, was killed and 15 others under 19-years old in Caloocan city alone, according to Bp David. PNP simultaneous operations of Oplan Galugad slain 32 individuals in Bulacan along and 14 in NCR in just overnight.
Duterte expressed a firm stance to destroy the apparatus of the drug trade, which he said is "taking a toll on the lives of the people".#