As the world celebrates Earth day this week, the Center for Trade Union and Human Rights said that calls for living wage and regular jobs become more imperative especially for the urban poor in light of the country's high vulnerability to climate change.
Based on the climate change vulnerability index, the Philippines is among the top 10 countries at extreme risk to climate change and Metro Manila is second to Dhaka as the most vulnerable city to climate-change related disasters.
The group recently published the results of its climate justice feminist participatory action research (CJ-FPAR) on urban poor communities lying along the Tullahan River in Metro Manila. The research revealed that apart from damage to homes and properties due to massive inundation following typhoons and prolonged southwest monsoon rains, urban poor women and their family members also lost days of work thereby lowering family income during and after the calamities. The report also noted that because of the precariousness of livelihood and employment urban poor women have, it becomes almost impossible for families to recover from disasters.
The CJ-FPAR is part of multi-country research, initiated and supported by the Asia Pacific Forum on Women Law and Development (APWLD), a leading regional feminist network that has a consultative status at the United Nations.
"Extreme weather events such as typhoons and consequent flooding in Metro Manila that occurred repeatedly and more frequently in recent years have aggravated the urban poor's condition. Combined with poverty wages and informal or contract employment, these disasters will keep the poor ever mired in poverty. Building resilience and adaptive capacity of the poor to climate change should therefore include providing living wages, regular jobs, more viable livelihood and social services to the poor," Daisy Arago, CTUHR executive director explained during a Solidarity Walk for climate justice held in Novaliches QC last Saturday, 18 April.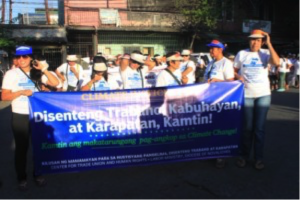 The Solidarity Walk organized by the CTUHR and a recently formed local alliance, Kilusan ng Mamamayan para sa Hustisyang Pangklima (KMHP), comprised of women organizations, trade unions and church people, called for decent work, livelihood, and rights as part of a "just" adaptation policy to climate change. The Solidarity Walk is part of a National Advocacy Plan for Climate Justice also supported by the APWLD. Meanwhile, CTUHR underscored that all talk of adaptation will be rendered useless if big countries do not significantly lower their emissions. "Rich countries such as the United States benefit immensely from the use of fossil fuels and extraction of natural resources, while developing countries like the Philippines suffer the consequences of a warming planet. They have amassed and continue to amass huge sums of profits at the people's expense," Arago said. "We call on the people to unite and strengthen calls for climate justice and build broader grassroots movement to end a system that is exploitative to both the environment and the people," Arago averred. ###