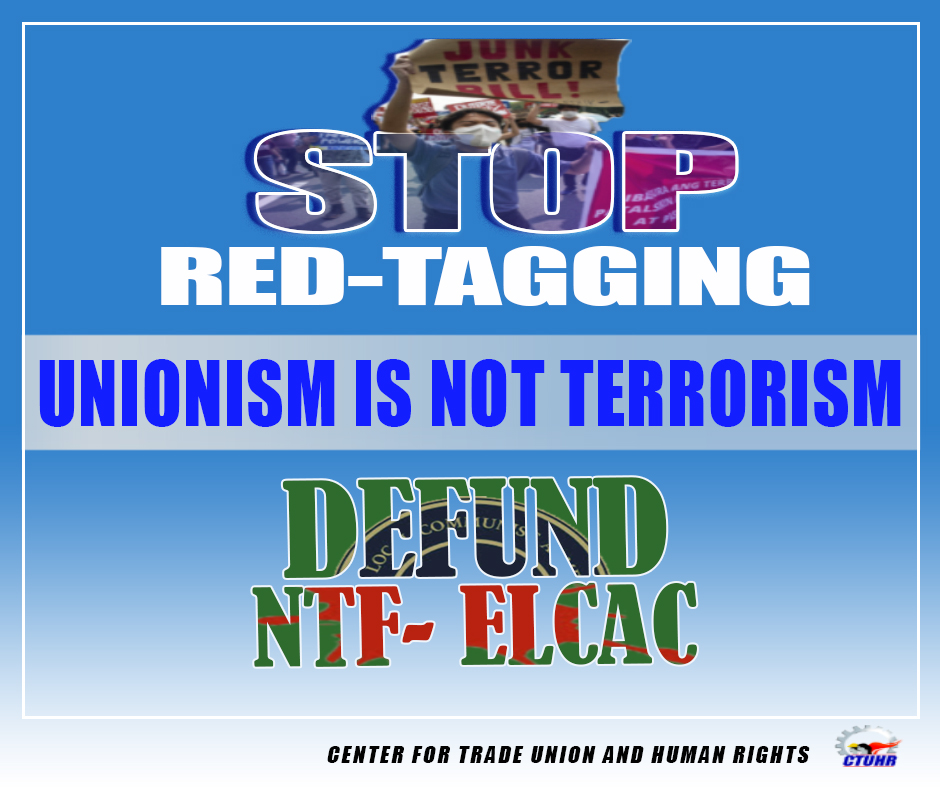 The Center for Trade Union and Human Rights (CTUHR) condemns the intensified red-tagging and vilification of unionists, workers' rights defenders, human rights advocates and even personalities simply expressing their views on current issues affecting the people.
The NGO received reports of more incidents of red-tagging against union leaders. In a workers' community in Laguna, a tarpaulin maliciously tagging Kilusang Mayo Uno (KMU) as a communist front was seen hanging in public places. The black propaganda also said that the union is the cause of some workers' death and suffering. Meanwhile, in Bulacan, a long-time labor organizer, Florentino "Pol" Viuya was also being vilified in a Facebook post known to be handled by PNP Region 3. The post said that he should be avoided for being dangerous, manipulative and has links to terrorism.
CTUHR denounces this intensified red-tagging and reminds the government, especially the National Task Force to End Local Communist Armed Conflict (NTF-ELCAC), state forces and other agencies involved in this kind of acts that workers have the right to unionize and to freedom of association. The Center further said that it is shameful that government agencies are wasting time and funds on these senseless activities amid the pandemic and the economic crisis we are in.
Amid the crisis we are in, the government's incompetence and criminal neglect is glaring and rouses more workers and people to stand up and voice out their opinions. It is no surprise that even celebrities are supporting different calls and causes.
A week ago, Liza Soberano was not spared by Gen. Parlade from red-tagging after the TV actress guested in a webinar organized by women's group, Gabriela. Other actresses like Angel Locsin and Miss Universe Catriona Grey who were also vocal on women's issues and rights were also implicated by Parlade. The three celebrities have already denied allegations thrown on them and expressed fear for their safety amid this red-tagging. Supporters, family and friends have expressed support for them and slammed Parlade for his baseless and irresponsible accusations.
CTUHR in its statement, said that General Parlade's brazen red-tagging shows the desperation of the government to silence people's dissent, resorting to criminalization of legitimate demands. "No amount of red-tagging can cover up the government's negligence that has put the country in a worse situation amid the pandemic."
The group also supported calls to defund the NTF-ELCAC and calls for its abolition. CTUHR said that the agency is a waste of public funds, as it seems that its only job is to attack legitimate and legal organizations and advocates. "It is enraging to see government funds being wasted on an agency putting more lives in danger, instead on efforts to save them. The government seems to be needing reminders of the numerous concerns of the people that urgently needs to be addressed – COVID-19, massive joblessness, destruction caused by recent typhoons," CTUHR further said in its statement.
CTUHR raises alarm that more workers, unionists and labor rights defenders will be put at risk if the government thru the NTF-ELCAC will continue these attacks. "If they can aggressively accuse public personalities, what more ordinary people. Victims of political killings like Carito Badion, Zara Alvarez and Jory Porquia have all been red-tagged and received threats to their lives before being murdered. Red-tagging is a serious threat against anyone and everyone involved in this should be held accountable."
As a labor rights organization, keen on defending workers' rights, CTUHR calls on the Duterte government to stop this terror tagging of workers and people's organizations and anyone who express their dissent. "Resisting abuses and expressing dissent against injustices are not acts of terror. It is an inherent right of the people and should be upheld and respected," CTUHR ended.