(photo from PEPMACO Workers Union FB Page)
The labor rights NGO, Center for Trade Union and Human Rights (CTUHR) vehemently condemns the barbaric and brutal attack against the striking workers of Peerless Producers Manufacturing Corporation (PEPMACO), manufacturer of Champion brand detergent and other surfactants.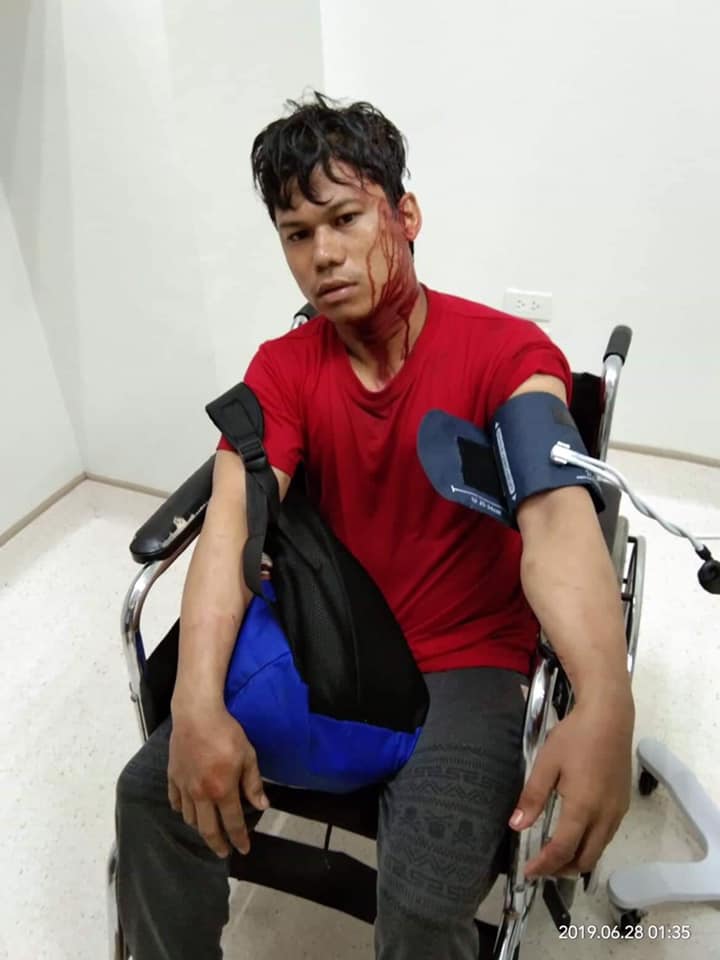 At around 1:00 in the morning of June 28, 2019, hundreds of goons and security guards wearing masks forcibly destroyed the picketline, attacked around 200 striking workers with their batons, hurled big rocks at them and fired jets of water. Eleven (11) workers were reported to be seriously hurt and brought to the hospital, mostly incurring head injuries.
"This is a desperate move by the Taiwanese business tycoon owner, Simeon Tiu to resume its production and amass millions in profit from lowly paid contractual workers laboring like slaves in his factory. This is in sharp contrast of what it projects in Champion brand detergent marketing (Tapat po sa inyo). PEPMACO has never been considerate of its workers, violates law and those who complained are suspended. This is slavery. Meanwhile, DOLE has done nothing about it." Daisy Arago, CTUHR Executive Director said.
PEPMACO is the company that manufactures the detergent and fabric conditioner brand Champion, Calla, Hanna shampoo and conditioner and other surfactants for export. PEPMACO is based in Airstrip Silangan Industrial Park, Canlubang, Calamba City, Laguna.
Last Monday, June 24, the workers, led by the PEPMACO Workers Union-NAFLU-KMU launched a strike due to long-term contractualization, grave violations of occupational health and safety standards, excessive working hours, union-busting and illegal dismissal of union members and leaders since the workers formed their union in 2018. The strike successfully paralyzed the production of the company since then.
The workers had organized their union since last year, but even before that, the company management has been employing different forms of harassment against the workers. The dismissal of around 70 union members and officers is the latest of its brazen acts. The management also claims that they have no employer-employee relationship with the workers and refuses to attend the necessary hearings to arrive at a resolution for the labor dispute.
Arago added that CTUHR is alarmed at how corporations continue to commit labor rights abuses with impunity, while this government is either oblivious or is deliberately ignoring these violations of the law because they're their friends. There have been a number of protests and strikes violently dispersed by goons and even state forces under Duterte's almost 3 years as President, but his government continues to turn a deaf ear to their cries for justice and accountability.
CTUHR urges the Department of Labor and Employment (DOLE) and other responsible authorities to immediately address this incident. "We challenge DOLE Secretary Bello to intervene and hold PEPMACO accountable for its brutal dispersal of the strike, for union busting and for string of violations of labor standards. To strike is right. We demand the immediate pullout of all armed persons close to the strike area as this does not only directly violate the sanctity of the picketline but also cause intimidation and violence against the workers."
CTUHR calls on the public, especially Champion, Calla and Hana consumers to support the fight of the workers and demand for PEPMACO's accountability. "We can support the workers in many ways, one of which is by boycotting PEPMACO products. This shall serve as a strong signal to the company that we, as consumers demand that they stop exploiting their workers and give them the respect and the rights they deserve."###